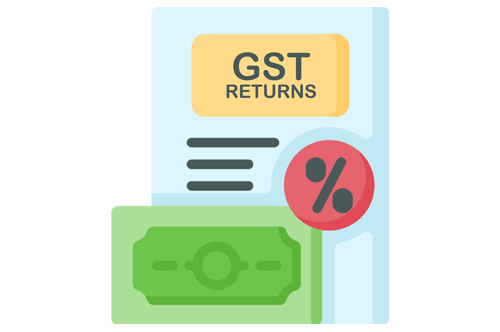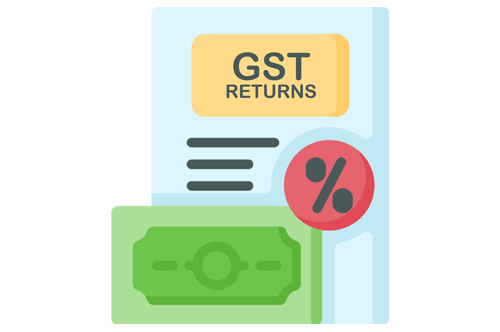 GST Returns
Statutory Filings
Youngest but largest compliance under indirect tax regime in the country. A document that needs filing with the tax authorities through a step by step process that needs accuracy, transparency, and full disclosure to arrive at tax liability. An inevitable exercise for registered dealers.
All businesses that come under the stipulated conditions of GST are required to file their GST returns monthly or quarterly as it deems fit.
The GST return will broadly include purchases, sales, input tax credit and output GST. Even if the company has zero sales for a month, they are supposed to file the GST returns.
Regular businesses, Businesses under the composition scheme, and Other types of business owners are some entities that need to file their GST returns.
There are different forms of GST forms for returns:
GSTR-1: Furnishes details of Outward Supplies
GSTR-1A: Details of Auto Drafted Supplies
GSTR-2: Inward Supplies
GSTR-2A: Details of Supplies
GSTR-2B: Input Tax credit
GSTR-3: Monthly GST return
GSTR-3A: Non-filing of GST Return
GSTR-3B: Monthly Return to claim
GSTR -9: Annual returns
GSTR-10: final return to be filed when terminating business activities permanently
GSTR-11: to be filed by taxpayers with a Unique Identity Number (UIN)
A normal taxpayer is supposed to file return forms mainly: GSTR-1, GSTR-3B and GSTR-9.
GSTR-1 is a monthly or quarterly return that should be filed by every registered taxpayer. It has a total of 13 sections. All the details of tax liability and monthly/ quarterly sales.
GSTR- 3B is a consolidated summary return of inward and outward supplies, input tax credit, met tax payable, reverse charge purchases etc. It is a self-declared summary filed monthly and quarterly when it comes to the QRMP scheme.
GSTR-9 filing is done annually. The due dates of GSTR-1 have to be filed before the next month 11th, and GSTR- 3B has to be filed before the 20th of next month. Input tax credit or GSTR-2B is another feature of GST returns. The input tax credit is the reverse charge applicable for businesses while purchasing capital goods for their company. These credits can be used by businesses to pay off their tax liability.
Profito Global helps the business entity with the prompt filing of the returns and helps them evade the possible chances of paying penalties that can arise due to non-payment of the GST returns. Filing the GST returns is an important part of the business requirement.
Submit Enquiry
Send us your enquiry in a detailed description
Connect with Profito Assistant
Connect with our experienced personnel's.
Upload Documents
Upload all your verified documents
Filing Returns
Filing GST return
What are the different annual returns under the GST law?

There are four different forms of annual returns under the GST law.

GSTR-9 is for regular taxpayers who are under GSTR-1 and GSTR-3B.GSTR-9A is for composite dealers. GSTR-9B is for e-commerce dealers who file under the GSTR-8 category. GSTR-9C is for all taxpayers who have a turnover of above two crores in the financial and should audit their financial reports.

What happens if the vendor does not upload my invoice under their GSTR-1?

The vendor will not be able to claim the input tax credit. The information entered by you in GSTR-1 will be the basis to generate the vendor's GSTR-2. The business activities stated in GSTR-2B will only be considered to raise input tax credit.

What happens when the GST return is not submitted before the due date?

There will be a penalty of Rs 50 till the day the default continues. It is calculated at Rs. 25 from SGST and Rs. 25 from CGST. If there are no sales, nil returns have to be filed. The penalty is Rs 10 for CGST and Rs 10 for SGST per day until the day it's paid.

How is payment for GST done?

The challan for the payment has to be generated from the site. GST can be paid through two kinds of ledgers: electronic cash ledger and electronic credit ledger. The accumulated input amounts are seen in the electronic credit ledger and the cash deposits are seen in the electronic cash ledger.