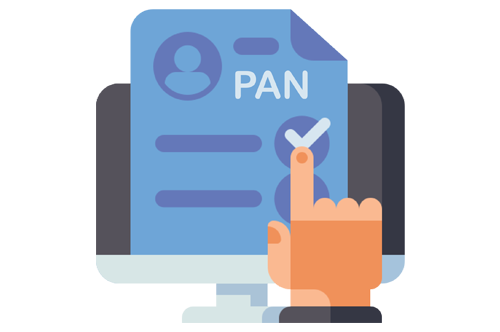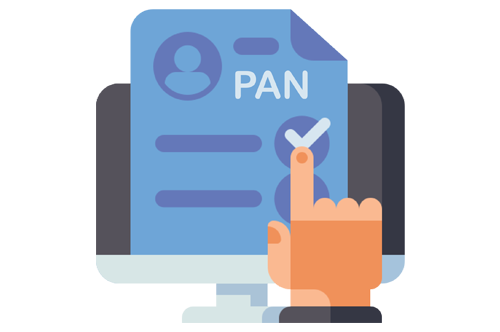 PAN Registration
Registration and License
A mandatory identity document for all assessees under Income tax regime, be it an individual or entity. Separate application wherever required, is a process of submitting the right documents at the right time.
PAN or Permanent Account Number is an essential document which has to be in possession of every taxpayer in India. It's a ten-digit alphanumeric code issued by the IncomeTax Department. Quoting PAN is necessary for filing Income Tax returns, Tax deductions at source, and any such related documents. Any business or profession which has a yearly turnover of more than five lakh in any year of the financial assessment has to apply for PAN.
PAN is a relevant document which can track all possible inflows and outflows of a taxpayer in India. Tracking tax payments is possible, which helps the payer refrain from multiple tax payments. PAN is a uniformly accepted identity proof in India; this makes it a valid document.
There are two kinds of PAN card forms in India. Form 49A is supposed to be filled by Indian Nationals. Minors and students can also apply for PAN card by filling for 49A.
Form 49AA must be submitted by Foreign Nationals if they need to apply for PAN in India.
Eligibility to apply for PAN
Any person who has paid tax or is bound to pay tax under Income Tax Act, 1961 has to apply for PAN.
All kinds of charitable associations, trusts and such associations have to apply for PAN.
Importers and exporters who pay any form of duty or taxes have to apply for PAN.
Profito Global helps businesses and individuals in their PAN registration. By choosing Profito Global, you are relieving yourselves of the hassle of obtaining PAN.
Submit Enquiry
Send us your enquiry in a detailed description
Connect with Profito Assist
Connect with our experienced personnel's.
Upload documents
Upload all your verified documents
Registration of PAN
Ge your PAN.
What happens if a taxable person doesn't possess PAN?

Barring businesses from doing large transactions.
Deduction of flat 30% as tax on wealth and earning of an individual or business.
Individuals or businesses will not be able to purchase vehicles or immovable property worth more than ten lakhs.

Is it compulsory to quote PAN on the return of income?

Yes, it is compulsory to quote PAN on return on income under Income Tax Act, 1961.

What are the different documents required for PAN registration?

Aadhaar card
passport
voters id

Is it required to change the PAN while relocating to another city?

PAN has lifetime validity; hence it is not necessary to renew PAN.