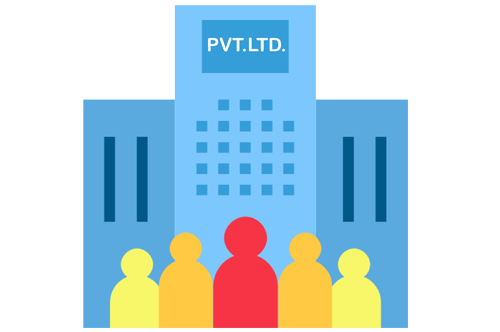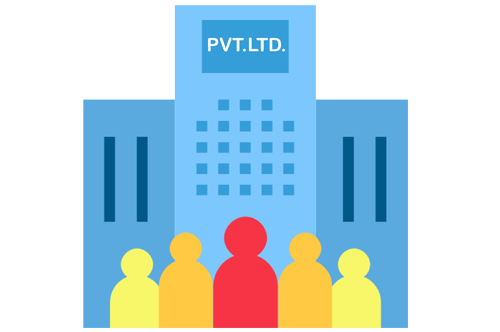 Private Limited Company
Business Formation
The most popular business constitution that has an advantage of limited liability for the shareholders or owners. Offers an identity of credibility to attract funds and build a global reach for the business. Well monitored with a string of compliances, this model has the best exit strategy for investors.
Pvt Ltd Company Registration
A private company is a company that has a very close circle of owners or shareholders. The shares of a private company is never traded in public exchange instead those shares are sold, exchanged privately in a small group or even possessed by a single individual. A Private Company can only be started with a minimum of two directors and a maximum of seven. A private company could start its business after certificate of incorporation is issued.
To register one's business venture as a private company requires lengthy process of submission of various documents. Without proper guidance, it is quite difficult to move forward. Profito global helps you find the proper direction and the right intervention at the right time to make these processes way easier.
Pvt Ltd company registration is conducted through different steps. They are:
Applying for the Digital Signature Certificate: The directors and shareholders of a company should mandatorily have the digital signature certificate to sign all official documents concerning the company affairs. This is compulsory under the Information Technology Act, 2000.
Reserving the name of the Company: One of the most important elements needed to start off a company is its identification which is possible by choosing a name for the company. But choosing a name for the company requires a form to be filled, which is called SPICe+ (Simplified Proforma for Incorporating a Company Electronically) Part A.
Filing of required documents related to the Company: All the necessary details concerning the company like the capital, the address of the company, list of the directors of the company, the digital signatures of chartered accountants, company secretaries and such other professionals that help you with registration etc. are supposed to file through form Spice+ Part B.
Filing of Articles of Association (AoA)and Memorandum of Association (MoA): These two are the most important documents required for the filing for incorporation of the company. The MoA contains prime clauses which have to be filed as per SPICE+ MoA. SPICe+ AoA has to be filled as per Table F of the company.
These documents are then submitted to MCA with the relevant digital signatures of the professionals.
Filing of Form INC-35- AGILE-PRO-S: This form has to be submitted with all the relevant details such as GST number, Employees Provident Organization Registration credentials, Employee State Insurance Corporation credentials and according to the state to which the company is to be registered, the information regarding the bank account also has to be given.
After the due verification of the above documents, the Ministry of Corporate Affairs grants the Certificate of Incorporation. This is conclusive evidence for the existence of your company.
While these steps to registration seems a difficult process altogether, Profito Global helps you to make it very easy. There will be exclusive assistance from the Profito Global professionals from the first step to obtaining the registration or the Certificate of Incorporation from the MCA. Every step of registering a private company has to be carried out meticulously. Profito Global assures that every need of the entrepreneur will be met without delay.
Submit Enquiry
Send us your enquiry in a detailed description
Connect with Profito Assist
Connect with our experienced personnel's
Upload documents
Upload all your verified documents
Receive Business Commencement Certificate
Get your certificate
What are the basic requirements to register a private limited company?

Two directors, one of which has to be an Indian citizen.
Two shareholders who are a natural person or can be a legal entity.
A minimum paid-up capital of Rs. 1,00,000.

Can a small firm be constituted as a Private Company?

Yes, a small firm can be registered as a private company. By doing this the credibility and the legal stature of the firm will have a positive outlook in the market. This also helps the firm to have better opportunities when it comes to raising funds.

What are the main advantages of a private limited company?

Main advantages of a Private Company:

Separate Legal Entity: A private limited has a separate existence from that of its owners or shareholders. This means that the company can own property in its name. As it works in its legal capacity, it can sue and can be sued by others.
Perpetual Succession: The ability of a corporation or business entity to enjoy a very long legal existence. The death of the partners doesn't affect the existence of the company. Once, its stature is recognized legally, then, unless and until its legally dissolved it can enjoy its existence for an indefinite period.
Limited Liability: Unlike the other modes of business, like proprietorships and partnerships, the liability of the shareholders or owners in a private limited company is restricted to extent of the number of shares owned by them.
Easy transferability of shares: A shareholder can transfer his shares to another person without any difficulty. The shareholder needs to sign off his share certificate to another person and henceforth that person will be entitled to benefits and obligations represented by the shares.

What are the disadvantages of a private limited company?

The registration process of a private limited company is quite a tedious task and a time-consuming process.
For the proper functioning of a private limited company, there are lots post compliance processes that the company has to follow through. Board meetings, annual returns, corporate social responsibility etc.
A private limited company can only be constituted with a minimum of two directors, this leads to a division of ownership which means that any decision to be taken consulting at least two people.
Just like the registration process, the winding-up process also is time-consuming and expensive.

Is it mandatory to add Private limited after the company's name?

Yes, its mandatory to add the words Private Limited or PVT LTD to the end of the company if it is incorporated as a private limited company.
1 Review
We were provided excellent customer service. Information was accurate, responses to queries were turned around very fast. Answers were clear and where necessary detailed enough for us to make informed decisions quickly. The attention to detail provided by Akshaya was impressive and her customer service skills are excellent.